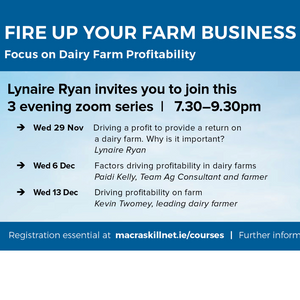 Fire up your Farm Business: 3 evening zoom series
Lynaire Ryan, Dairy Business Consultant from New Zealand is delighted to offer this educational zoom series over three evenings .
This will suit anyone – male or female – looking to progress or inspire their financial knowledge about a dairy farming business – dairy farm owners, people leasing farms, new entrants to farming, staff looking to grow their business knowledge.
Join us on this educational zoom series to:
• Hear why profitability is important to give you and your family choices, now and into the future
• Explore the factors which drive dairy farm profitability
• Learn from leading consultant Paidi Kelly, Kevin Twomey, dairy farmer, and       Barry Murphy, accountant,  who will share their experiences of what drives a profit.
• Gain motivation and technical knowledge to drive your farm business more profitably.
FIRE UP YOUR FARM BUSINESS
Zoom Webinars 7.30pm–9.30pm
1. Driving a profit to provide a return on a dairy farm. Why is it important?
Wed 29 Nov
Lynaire Ryan

2. Factors driving profitability on dairy farms
Wed 6 Dec
Paidi Kelly
3. Driving profitability on farm
Wed 13 Dec
Kevin Twomey
Barry Murphy
Also included is a bonus recording "How much is a dairy farm worth?" to help those unfamiliar with farm finances build their knowledge.
PRESENTERS
Lynaire Ryan has developed and facilitated seminars for dairy farm business owners, staff and families in NZ and Ireland, since 1997. These focus on financial and strategic planning.
Examples include:
• Business Brush up and Strategic Management seminars in Ireland in 2018, 2019 and 2022 attended by over 600 farmers
• Building your Future courses for farm employees, university students, sharemilkers and lessees.
• Establishing Dairy Women Ireland to empower and educate dairy farming women.
Paidi Kelly: TeamAg Consultant, has helped many farmers get into new business arrangements such as share farming, partnerships and leasing, and has also set up his own farming business in a partnership which operates on all leased land.
Kevin Twomey: Farming an efficient, profitable farm business in Ballyhooly, Co Cork allows Margaret and Kevin to spend valuable time with their family and contribute to their community.
Barry Murphy: Director & Deputy General Manager, FDC Group, with a particular interest in assisting rural family businesses with their growth, evolution, structure and inter-generational transition.
REGISTER NOW below
Webinar fee €90
FOR FURTHER INFORMATION CONTACT:
Lynaire at lynaire1@yahoo.com

Individuals, couples or families are most welcome to attend.
Only one registration per household is required.


FIRE UP YOUR FARM BUSINESS
Join us whether you are the farmer, working at the coal face, or the partner, supporting the farmer to run the farm business. This course is tailored for all.
Click here for the poster.
---