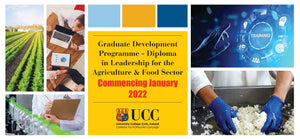 Diploma in Leadership for the Food & Agriculture sectors University College Cork
Now enrolling for commencement in the New Year (12th January 2022)
Who Should Attend?
·  Graduates who are working the SME food or agri sector, and have the ambition & motivation to further develop their core management skills
·  Graduates who have graduated in recent years, ideally but not necessarily from Food, Agri or related disciplines
·  For applicants without a level 8 degree, prior experiential learning and Recognition of prior Learning (RPL) will be taken into account
What our 2020/21 students say:
"The Diploma in Leadership course is a fantastic opportunity to gain some formal education behind aspects of management and leadership that are so integral to career development in the food industry. A great insight into all aspects of leadership and management, from the importance of communication, project management, time management and financial information "
Ms Lean O'Connor, MSc Food Science & Technology, Business Development Manager, Drover Foods Ltd
"The Diploma is very relevant for anyone seeking to move towards a more supervisory or management role, with real references and scenarios. It gave me the opportunity to learn and work alongside future leaders of the agri-food sector"
Mr Tennyson Egar B Agr.Sc., Operations & Strategic Account Manager, Irish Hereford Prime
 Course Modules
Modules delivered in ten 2 day workshops from Jan 2022 to Sept 2022, include :
Introduction to Management, Sales & Communications, Performance Management, Business Planning, Time Management, Project Management, Lean, Finance.
The programme design facilitates individuals who are working full time, and who wish to study part time, in an integrative manner with their careers. 
Course Fee and Registration
The net cost for a participating company is €4,700 per student, representing a significant subsidy from Macra Agricultural Skillnet. 
This includes tuition, course manuals, off site room hire where applicable, lunches and refreshment breaks.
Places are limited to twenty.
If you wish to register please Click here
For further information please don't hesitate to contact:
 
Deirdre Hilliard FCMA, Programme Manager,
Food Industry Training Unit, School of Food and Nutritional Sciences
College of Science, Engineering and Food Science
University College Cork
Email: Deirdre.Hilliard@ucc.ie; Mob: 086 3830011
---